Food Allergies-Please Inform Our Staff If You Have One!!!
---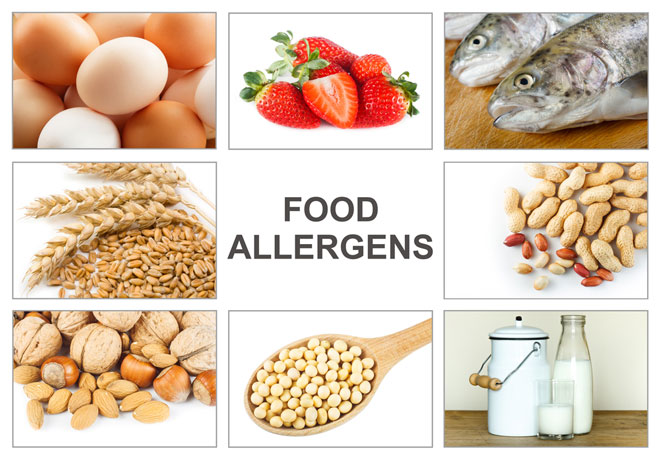 1) Peanut allergy is a type of food allergy to peanuts. It is different from tree nut allergies. Physical symptoms of allergic reaction can include itchiness, hives, swelling, eczema, sneezing, asthma, abdominal pain, drop in blood pressure, diarrhea, and cardiac arrest. Anaphylaxis may occur.
2) A gluten intolerance is the body's inability to digest or break down the gluten protein found in wheat and certain other grains. Gluten intolerance (also known as a gluten sensitivity) can range from a mild sensitivity to gluten to full-blown celiac disease.
3) Along with peanuts and shellfish, it is also one of the food allergens most frequently linked to anaphylaxis, a potentially life-threatening reaction that impairs breathing and can send the body into shock. Symptoms of a tree nut allergy include: Abdominal pain, cramps, nausea and vomiting.
4) Allergy to soy, a product of soybeans, is a common food allergy. … Mild signs and symptoms of soy allergy include hives or itching in and around the mouth. In rare cases, soy allergy can cause a life-threatening allergic reaction (anaphylaxis).
5) Shellfish allergy is an abnormal response by the body's immune system to proteins in certain marine animals. Shellfish allergy symptoms generally develop within minutes to an hour of eating shellfish.
6) Sensitivity to sesame varies from person to person, and reactions can be unpredictable. Symptoms of a sesame allergy reaction can range from mild, such as hives, to severe, such as anaphylaxis.
7) Molluscs include many of the most important seafoods such as abalone, clams, mussels, octopus, oysters, squid, and scallops as well as terrestrial snails. Adverse reactions following the ingestion of molluscs are similar to those reported for allergic reactions to other foods
8) Allergic reactions to many different vegetables have been reported, but celery, specifically celeriac (celery root) is a particularly problematic food. Symptoms of vegetable allergy are often mild and observed in the oral cavity with itching of the oral mucosa, swelling of lips, tongue and throat
9) Eggs are one of the most common allergy-causing foods for children. Egg allergy symptoms usually occur a few minutes to a few hours after eating eggs or foods containing eggs. Signs and symptoms range from mild to severe and can include skin rashes, hives, nasal congestion, and vomiting or other digestive problems.
10) Lupin (sometimes called "lupine") is a legume belonging to the same plant family as peanuts. Reactions can include anaphylaxis (a severe response to an allergen that can include shock), which is life-threatening and can occur very quickly.
11) Salmon, tuna and halibut are the most common kinds of fish people are allergic to. Finned fish and shellfish are not related. Being allergic to one does not always mean that you must avoid both. Finned fish can cause severe and potentially life-threatening allergic reactions (such as anaphylaxis). Allergic reactions can be unpredictable, and even very small amounts of fish can cause one.
12) Mustard allergy usually starts before the age of three years. Mustard allergy may often produce severe symptoms during the very first episode and involve the skin, the gastrointestinal tract, or anaphylaxis.
13) Milk allergy is an abnormal response by the body's immune system to milk and products containing milk. It's one of the most common food allergies in children. An allergic reaction usually occurs soon after you or your child consumes milk. Signs and symptoms of milk allergy range from mild to severe and can include wheezing, vomiting, hives and digestive problems. Milk allergy can also cause anaphylaxis
14) Sulphur dioxide (E220) and other sulphites (E221, E222, E223, E224, E226, E227 and E228) are used as preservatives in a wide range of foods, especially soft drinks, sausages, burgers, and dried fruits and vegetables. Sulphur dioxide is produced naturally when wine and beer are made, and is sometimes added to wine. Anyone who has asthma or allergic rhinitis may react to inhaling Sulphur dioxide.